April 16, 2021
Molly Voska - Marketing Manager
It was not long ago that marketers talked about the "Digital Divide" in describing how far behind Hispanics were in the online space. Today Latinos over-index in all things digital, including social media engagement, e-commerce, and even virtual reality. Listen here as Mario X. Carrasco interviews Roberto Orci on this topic, the impact of culture in marketing, and what the ANA is doing through its Alliance for Multicultural & Inclusive Marketing to make marketing to all segments more effective. Listen Here https://soundcloud.com/think-now/podcast-the-portability-of-culture-technology-segmentation Read more
Captura Group
Friday, April 9th, 2021 at 4:20pm
Welcome Sandy as the Director of Insights & Strategy.
.
A "Cultural Decoder", Sandy spots and understand patterns, mindsets, and behaviors to carve out unique opportunities to connect clients with their targets. She thrives on both quantitative and qualitative information while keeping on trends, technology, and shifts in the sociopolitical landscape that impact consumer behavior.
With over 12 years of experience in the Advertising and Marketing world, she has focused most of her career on working with multicultural segments.
#MulticulturalMarketing
#LifeatCaptura
#CapturaCulture
Captura Group
Monday, April 5th, 2021 at 3:16pm
Welcome Skylar, our new Media Supervisor on the Captura Group team!

Skylar Coleman joins us from Washington D.C. with experience at both agencies and clients big and small. She specializes in strategic planning, data analytics, and applying the top tech in media. As a Black woman, Skylar believes the work that Captura Group produces as a multicultural agency is cutting edge, and is excited to join the Captura team!
Captura Group
Wednesday, March 31st, 2021 at 4:10pm
Sarah brings order to chaos, aligning the right solutions to amplify brands, solve client's business challenges, and exceed goals.
#WomensHistoryMonth
#LifeAtCaptura
Monday, April 5th, 2021 at 12:17pm
Welcome Skylar, our new Media Supervisor on the Captura Group team!
Skylar Coleman joins us from Washington D.C. with experience at both agencies & clients big and small. She specializes in strategic planning, data analytics, and applying the top tech in media. #LifeatCaptura https://t.co/YA1S582jWX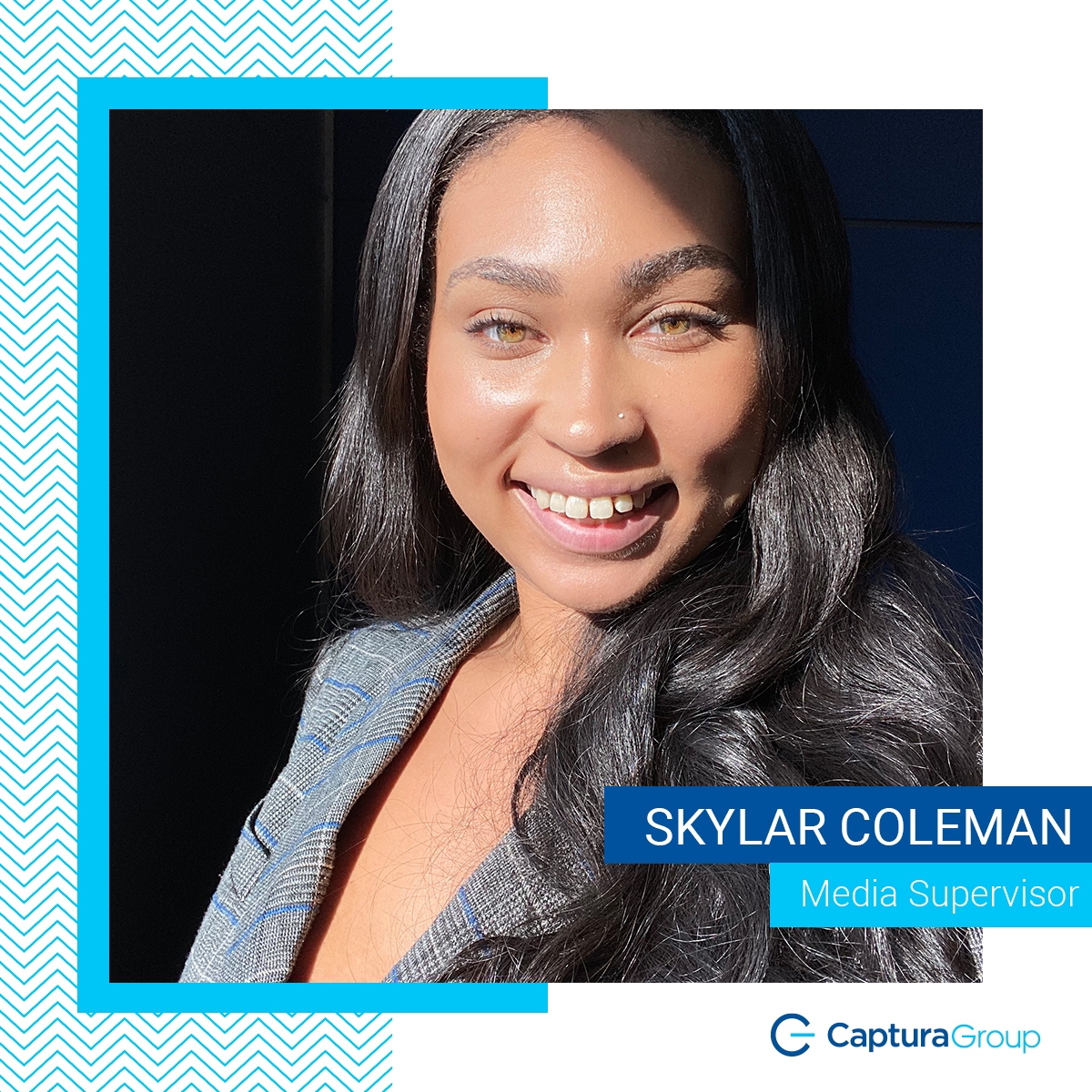 10 fantastic reasons to invest in Hispanic marketing. Take these facts to your boss, invest…
Totaling more than 50 million individuals, Hispanics are the largest minority in the United States…